Culinary Photography
Dishes & Drinks
Culinary Photography
Dishes & Drinks
My product "Culinary Photography Central Finland and Jyväskylä" is the skill of capturing the beauty and deliciousness of food in stunning images. It is a product mainly aimed at owners of hotels, restaurants and B&Bs. Professional culinary photography can help you create a strong brand identity. Good culinary photography is described be a good position of the food, good lighting and appropriate graphic processing. It should be promising 🙂
Session conditions:
session in the client's space
15 professionally made photos selected by the client in an electronic version for download via an ftp server
photos in maximum resolution, 4K and FullHD resolution (for online use) without watermarks and with free usage rights
consultations during preparation for the session
appropriate graphic processing of photos
session duration approx. 2-3 hours
each subsequent/additional photo from the session costs 20 EUR (incl. VAT)
Drive access over 20 km from Jyväskylä – 0,5 EUR/km.
Mobile studio ( backdrop for portraits – white / black ) + 50 EUR (inc. 24% VAT).
The first payment 100 EUR works as a booking fee and is invoiced before the session.
The customer always receives a pre-selected gallery within a week of the session.
The finished images will be delivered within about one/two weeks of making the selections.
The customer can choose the images she/he likes from the gallery according to the packages mentioned above or order as many images as she/he wants.
Additional images will be charged at the pricing above.
The second invoice will be sent after the image selections have been made.
Each subsequent 30-minute of session costs + 50 EUR
The photos go through the process of my own processing and appropriate retouching.
I do not provide photos other than selected ones. I do not provide unprocessed photos.
I do not publish photos on the Internet without prior consent.
Portfolio of Culinary Photography Central Finland
Dishes & Drinks
Culinary Photography
Dishes & Drinks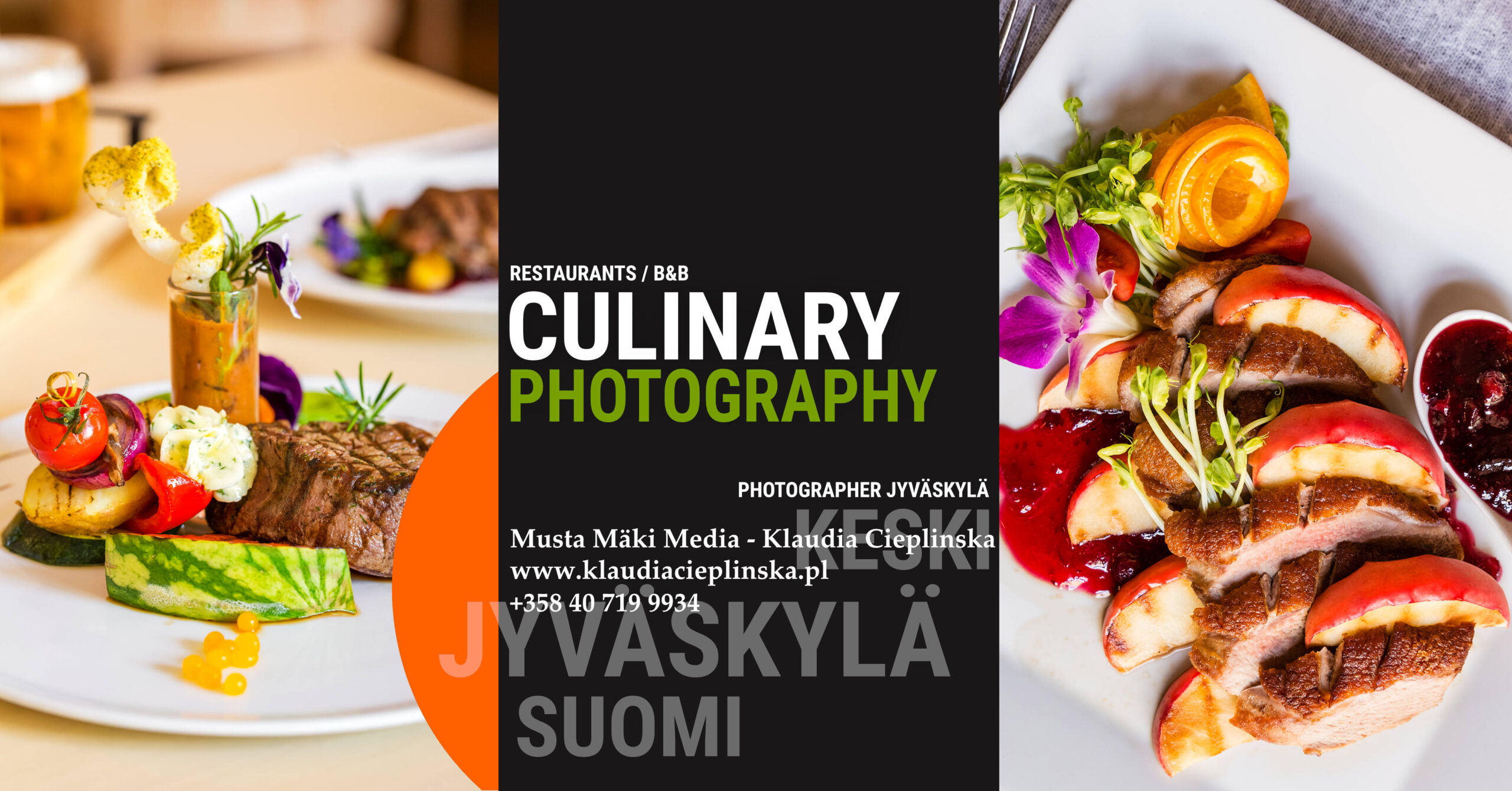 Culinary Photography is the art of capturing the beauty and deliciousness of food in stunning images. It is a product mainly aimed at owners of hotels, restaurants and B&Bs. Professional culinary photography can help you create a strong brand identity.
15 photos
dishes and drinks